Overview
CHEMSIMUL is a computer program for simulation of chemical kinetics. It can model complex reactions, in particular radiolytic processes with pulse trains, or radiolysis from nuclear waste. It contains a translator module and a module for solving the resulting coupled nonlinear ordinary differential equations. There is also a module for verifying the mass balance as well as stoichiometric balance. Heterogeneous processes can be simulated by so-called exchange equations. These and Refreshable Parameters are powerful tools for calculating many physico-chemical quantities, e.g. the ionic strength. Sequental simulation is possible if the reaction volume is exposed to changing physical conditions.
The main computer platform for CHEMSIMUL is the Windows PC (XP or later). CHEMSIMUL comes with a Graphical User Interface (GUI).

Comments, improvement suggestions, and error reportings are welcome and should be directed to the authors (chemsimul@risoe.dtu.dk).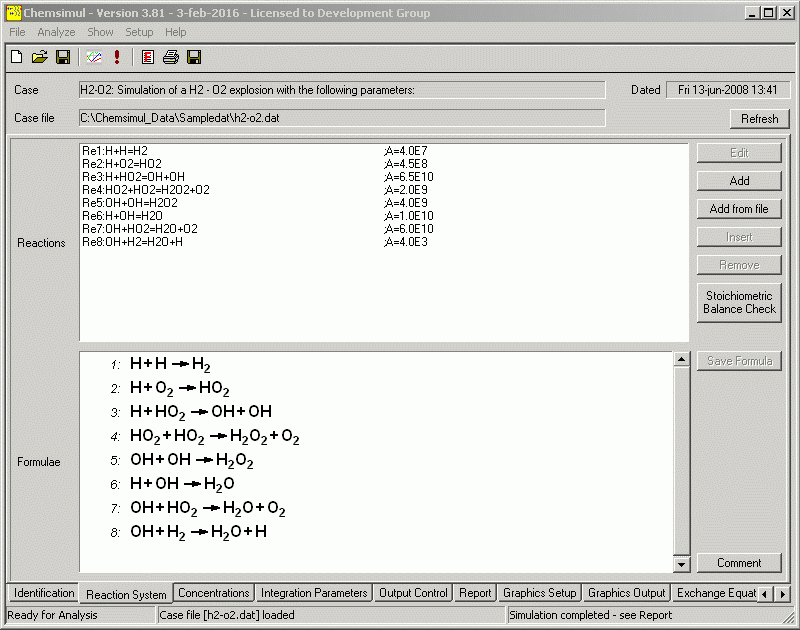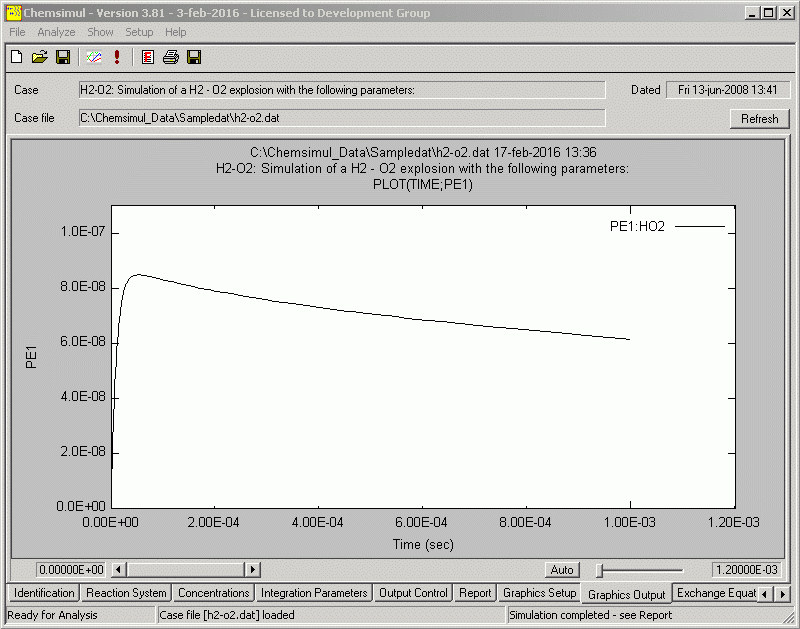 Outstanding features:
Input: Standard chemistry notation
Unlimited number of reactions
Unlimited number of reactants
Pulse radiolysis
Irradiation chemistry
Chemistry from high level waste radiation
Exchange equations for physical phenomena
Decaying isotopes and their affiliations

Check of mass balance
Check of stoichiometric balance
Heterogeneous and transport processes
Rate constants with temperature dependence
Flexible plot and print expressions
Variable items simulated by Refreshable Parameters
Ionic strength calculations
Sequential simulation
Tutorials and examples
Technical issues
List of the most common filetypes used by CHEMSIMUL.
A classic version of CHEMSIMUL running in command mode (DOS and Linux) is available, using the same input and output format as the GUI version.
CHEMSIMUL has successfully been tested on Linux under Wine from Redhat Enterprise 5.
Price
From 1. sept. 2022, the CHEMSIMUL license can be issued free of charge.
The CHEMSIMUL license admits at any time installation and use of the most recent version of the program.
The demo version may be used without any license.
How to acquire CHEMSIMUL
To be able to run the full CHEMSIMUL program, a license key is required.
To obtain a license key, please print the standard CHEMSIMUL License Agreement.
Fill it out, sign it and e-mail a scanned copy or post it to the address below.
The license key will be send to the end-user by e-mail.
Send the signed license-agreement to:
Gitte Ravnebjerg
IT-Service
Technical University of Denmark
Risø Campus
P.O.B. 50
DK-4000 Roskilde
Denmark
phone: +45 4677 5502
e-mail:Chemsimul@risoe.dtu.dk
You will then receive the license key by e-mail.
The full version of CHEMSIMUL, including test data, can be installed here (CHEMSIMUL version 3.90).
The classic version of CHEMSIMUL (command-line version for DOS as well as Linux) are available free of charge for registered users.
Demo version
A free demonstration program called CHEMSIMUL_Demo, which has restrictions on the number of reactions and species may be used without any license.
The documentation is the same as for the unrestricted CHEMSIMUL.
CHEMSIMUL_Demo (including the small data examples) may be installed from here: Chemsimul Demo version 3.90 (975 kB)
CHEMSIMUL sample data files
A set of sample data files for CHEMSIMUL is available here.



References
| | |
| --- | --- |
| Modelling dilution using exchange equations in CHEMSIMUL (by P. Bouniol, CEA, Saclay): | Dilution.pdf |
| Radiolytic processes in cement ... (by P. Bouniol, CEA, Saclay and E. Bjergbakke, Risø): | JNM-CL-0620.pdf |
Authors
Jens V. Olsen
System Programming Analyst
DTU - Risø Campus, Roskilde, Denmark


Peter Kirkegaard
Applied Mathematician, Ph.D.
DTU - Risø Campus, Roskilde, Denmark


Erling Bjergbakke
Bjergbakke Chemical Consulting
Roskilde, Denmark